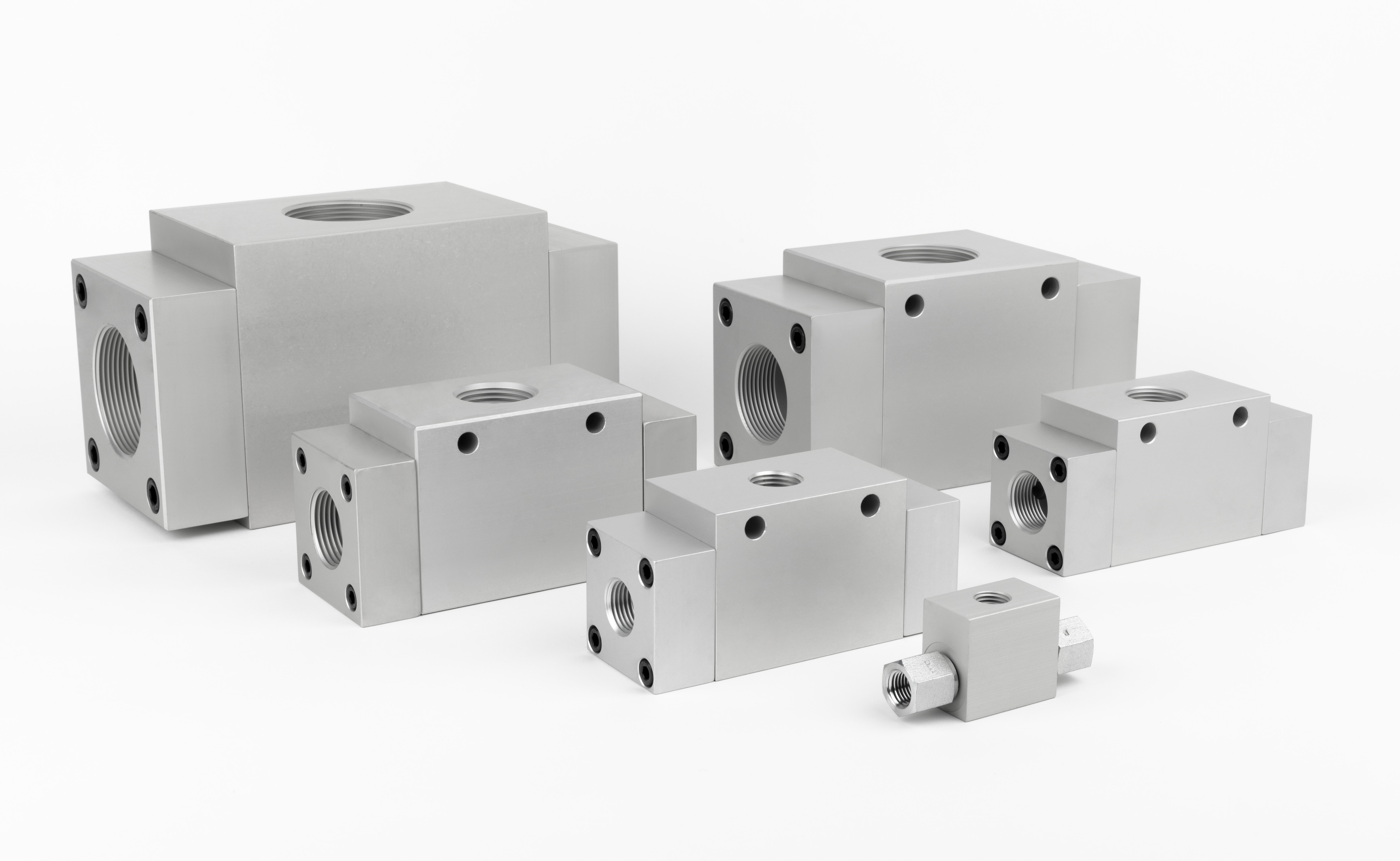 In the world of fluid power, one of the least-complex components is the shuttle valve. Your best choice for Shuttle valves is Lexair, headquartered in Lexington, Kentucky. Since 1977, we have continually expanded our product offerings including our unequalled selection of shuttle valves and we continue to design and manufacture new or modified items to meet the special requirements of our customers.
Lexair shuttle valves are "Made in the USA."
Shuttle valves perform the simple function of allowing flow from either of two inlet ports to an outlet port. Shuttle valves have two inlet ports, a single outlet port, and a floating piston (shuttle) between the two inlet ports. The outflow source is controlled by the incoming fluid pressures. The inlet port with the higher pressure passes flow to the outlet port while simultaneously pushing the piston to the opposite inlet port blocking its' flow bubble-tight.
The main purpose of the shuttle valve is to auto select between two inlet ports based on the fluid pressure differential present at each. Mixed media is possible on the inlet ports with selection entirely dependent on the pressure differential between the two. Lexair Shuttle valves will operate and seal bubble tight with pressure differentials as low as 1 PSI to 2 PSI.
Lexair shuttle valves are self-actuating, line-mounted valves that provide control and versatility in fluid systems. A shuttle valve can allow a device connected to its outlet to be operated by either of two control valves connected to the shuttle valve inlets. Lexair shuttle valves feature a reliable design, built with Buna or polyurethane seals for durability and long life.
Being a pressure-operated valve, shuttle valves can automatically switch to an emergency pressure supply system should the normal system pressure fall below the emergency system pressure. An example might be where a compressed air system is backed by an emergency nitrogen bottle which "kicks in" to supply the system automatically in case of main system pressure loss.
Key features of a Lexair shuttle valve:
Bubble tight leak proof design
Easy in-line repair without disconnecting plumbing
Operating pressures up to 250 PSI
Lexair is proud to be a privately held, American owned corporation with all facets of our business contained under one roof on Mercer Road in Lexington, Kentucky. We offer excellent customer service, product engineering, component machining, and manufacturing in our modern state-of-the-art facility in Lexington, Kentucky.