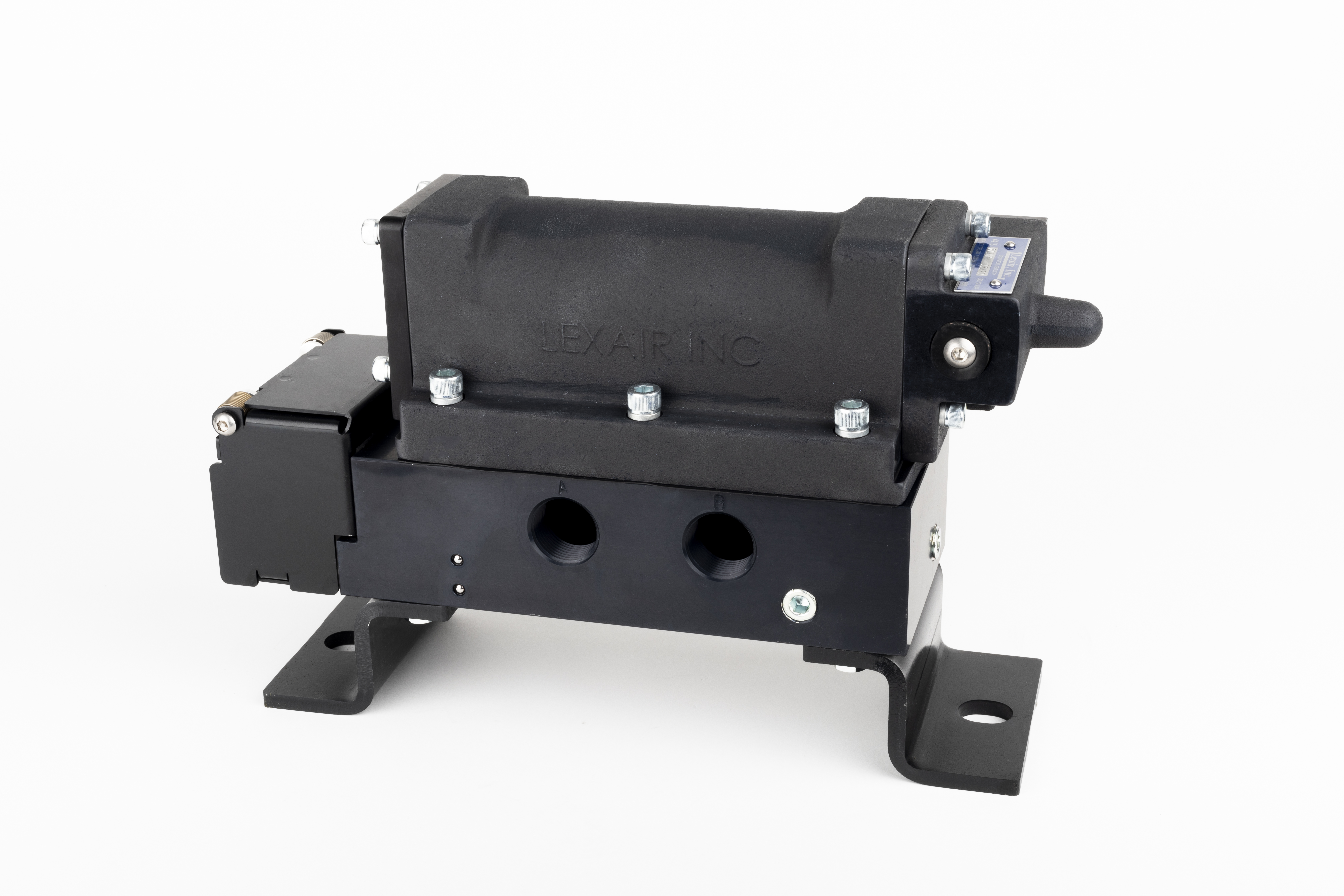 Lexair Railcar valves are "Made in the USA".
Lexair manufactures many different types of Railcar Valves. Our large 4-way directional control Railcar Valve is widely used on automatic bottom dump hopper cars to control the pneumatic cylinder(s) which opens/closes the dump doors. Lexair Poppet Valves, Check Valves, and Shuttle Valves are used extensively in railcar applications for air reservoir condensate drain systems, dump system pressure retention and for selecting pressure sources on cars with multiple air supply inlets. The newest Lexair Railcar Valve is the patent pending

which is a 3-way manual lockout-tagout safety valve designed specifically for railcar service using the proven sliding shoe design of the Lexair 4-way Railcar Valves.
Railcar valves are an essential component for use on automatic bottom dump hopper cars. Widely used on railcars that haul coal, many sorts of aggregates and other types of bulk materials, Lexair, Inc. has been manufacturing railcar valves for over three decades. Goals of safety and effective car operation are at the core of our product lines and Lexair, Inc. has rigorously tested its 4-way directional valves under extreme temperatures, and in environments of shock and vibration. Lexair has been a trusted, well-respected manufacturer of valves and machine tool accessories for over four decades. We are an American fourth-generation family-owned company headquartered in Lexington, Kentucky. Our reputation has been earned through continuously delivering high-quality products and providing outstanding customer service not only the Railcar market, but in all markets that we serve.
Have you ever had a load of coal dump before it was supposed to? Talk about a disaster! The most common cause of premature dumping is vandalism in the form of the "open" override button being operated while the cars are sitting in a switching yard or on a rail siding. Sometimes it is untrained personnel who may be pushing the overrides in error. Another reason for premature dumping is leaving the railcar valve in the "open" condition during staging of cars after dumping has been completed. There have been some instances of cars that have already been unloaded and closed being reversed and backed into the "hot rail" which contacts the shoe with an "open" signal shifting only the valve with residual air pressure still in the reservoir. Since this residual pressure is below what's needed to operate the cylinder, the scenario has been set for a premature dumping to occur when the system is pressurized prior to the next unloading cycle.
Do you want to assure that you never again deal with premature dumping? Turn to Lexair's Second Generation Railcar Valves that protect you from these disastrous situations. Tens-of-thousands of Lexair valves have been applied to railcars over the past thirty plus years, and Lexair has clearly established our product as the market leader for the industry. Our Original Series Railcar Valves featured a "sliding shoe" design to operate the directional control function of the valve. The "shoe" was shuttled from door "open" to the door "close" position and back by a piston assembly powered by pneumatic pressure controlled through either the solenoids or manual overrides. Our first-generation series of railcar valves featured subplate mounting for easy removal and servicing. These units were equipped with a magnetic detent that latched the valve in the "closed" position and held it there in spite external vibration or forces.
Our Second-Generation Railcar Valves are based upon the same sliding shoe construction as our Original Series, but our engineers have built in a number of operational and safety enhancements, including our Patented (U.S. Patents 7,093,455 and 7,328,661) sequenced mechanical lock/indicator assembly. When the valve is in the "door close" position, an internal mechanical lock holds it in place and indicates that the valve is in this position and positively locked with the indicator retracted. When the railcar valve is given a signal to shift to the "door open" position, the indicator extends to show that the valve is no longer in the fully closed and locked position. Lexair's "glass bead" technology allows the indicator to be easily seen in the daylight or darkness (with a flashlight). Another feature of Lexair's Second Generation Railcar Valves is its fully modular design, making it user friendly when it comes time for service due to working conditions or age.