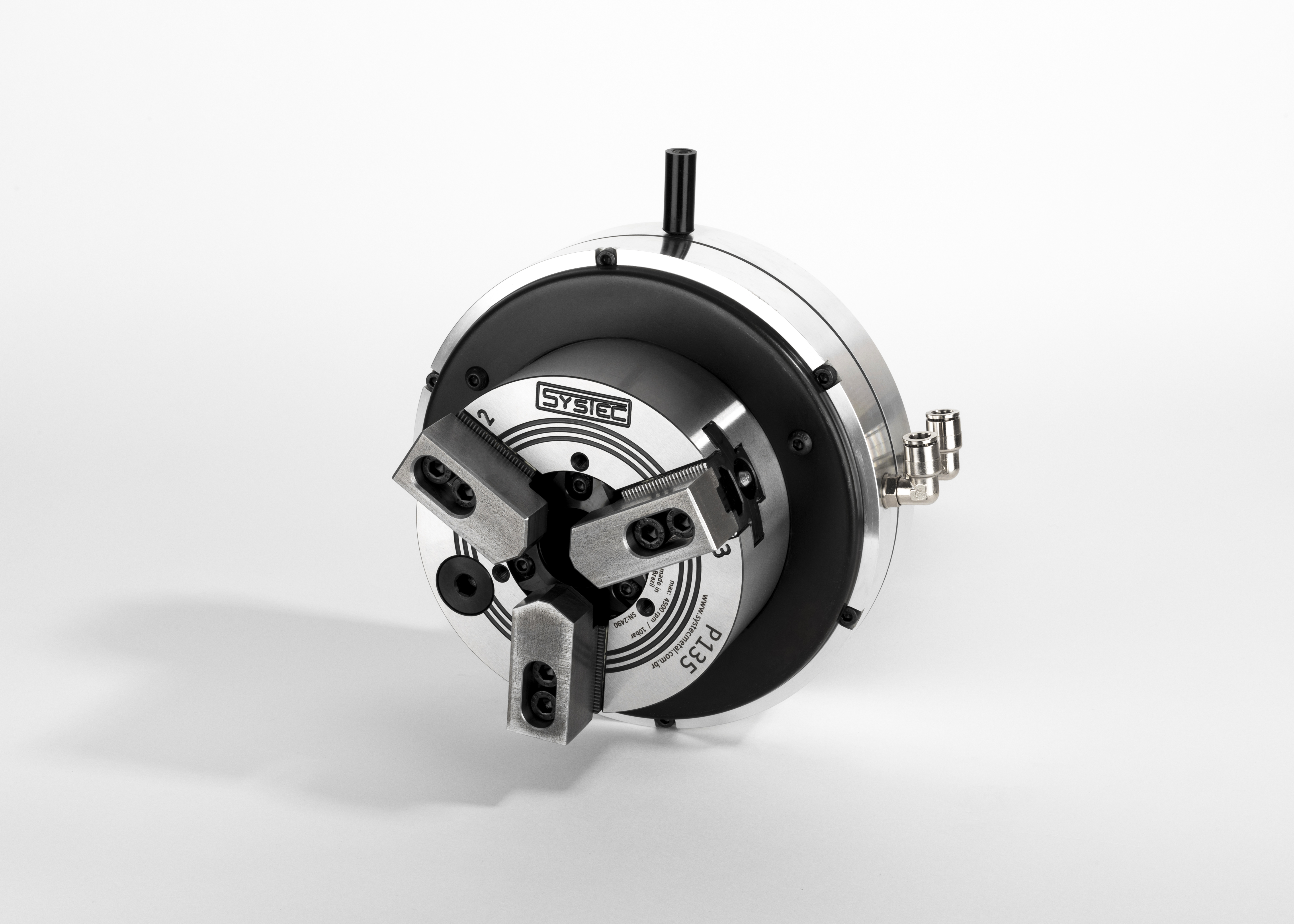 Lexair Inc., headquartered in Lexington, Kentucky is your best source for power chucks. We have been in business for over 43 years and have developed a strong reputation as a source for the best products. We are a third-generation family-owned, privately held American-owned corporation. We are a world class manufacturer of machine tool accessories, fluid power products and valves. With our contemporary state-of the- art facility, you can rest assured that all of our products, including power chucks Made-in-the-USA, pass every quality test for excellence, delivering the best products possible for today's global market needs. Lexair power chucks, manufactured for use in a variety of manufacturing operations, are made to the global standards of the American Society of Mechanical Engineers (ASME) and the Systec power chuck is no exception to this.
The Systec self-contained pneumatic power chuck features excellent rigidity and durability. Its applications include engine lathe, when desired to automate the clamping feature, with Main and Sub spindle on cnc machines and in Indexer/stationary applications. With more productivity than the manual power chuck, this power chuck will definitely increase your productivity. Compared to other power chucks, Lexair's Systec power chuck is 15% faster, has 45% more gripping force and will cycle in one half the time. These attributes make Lexair power chucks well-suited for heavy duty machining of slug and bar components. Our power chucks are also the right equipment for high precision machining of easily deformed workpieces.
The Systec power chuck features automated fast clamp and unclamp times. Operators experience less fatigue due to this feature. Available in a 2, 3 or 4 jaw version, all sizes are available with inch or metric serrations. Lexair power chuck jaw selections are compatible with the industry standards in the US, Europe and Asia, accommodating your manufacturing needs. Our power chuck steel bodies have been hardened to a 62 hrc and precision ground. Lexair power chucks possess safety valves that will prevent the loss of air pressure and grip source. Based upon the requirement of your application, Lexair power chucks are available in five sizes, up to 12 inches in diameter. Optional accessories include hard top jaws, spindle adapters and controls. The design of Lexair power chucks makes our product an excellent choice for decreasing machine cycle times while saving energy and spindle wear.
Lexair supplies chucks with through-hole, available in 2, 3 and 4 jaws
All chuck sizes are conveniently available in inch or metric serrations
Chuck bodies are fully hardened to 62 Hrc and precision ground
Internal safety valves prevent loss of air pressure and gripping force
Standard equipment: Chuck, mounting bolts, quick pneumatic disconnect G 1/8", soft top jaws, grease, 2 hoses and 1 set of T-nuts
Optional accessories available: Hard top jaws, spindle adapters and controls.
Lexair chucks are made to the global standards of the American Society of Mechanical Engineers (ASME).