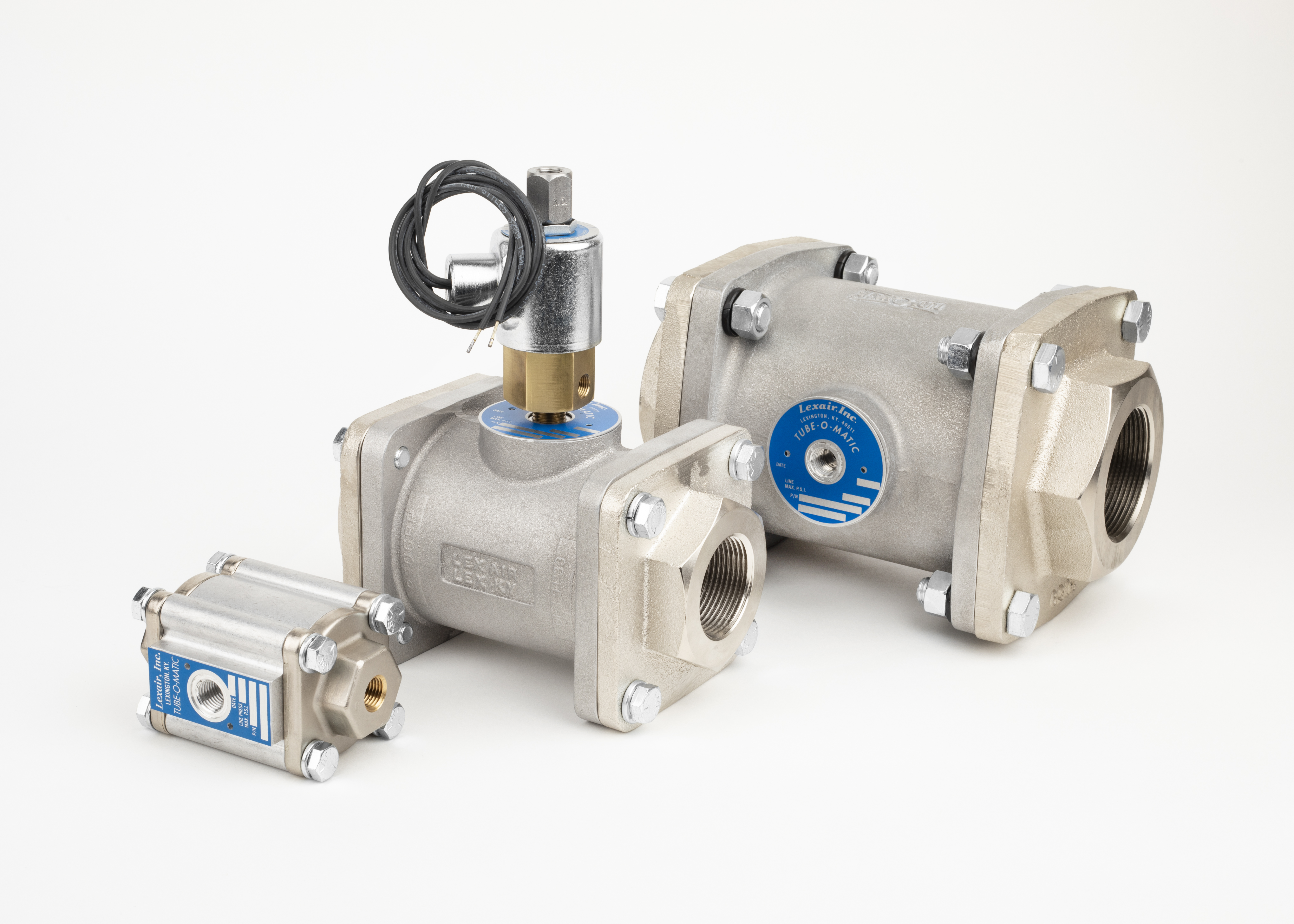 When looking for a reliable and cost-effective pinch valve solution, look no further than Lexair, a privately held, American owned corporation that has all facets of our business under one roof on Mercer Road in Lexington, Kentucky. We offer excellent customer service, product engineering, component machining, and manufacturing in our modern state-of-the-art facility.
Pinch valves are the ideal shut off valve for abrasive, corrosive, and fibrous products, such as granulates, powders, and liquids containing solids. Pinch valves can be used for 2-way control of emulsions, sludges, dusts, gaseous materials, compressed air, powder, granulates, pellets, abrasives, etc.
All Lexair pinch valves are "Made in the USA."
No other valve design can offer the specific combination of features that Lexair Tube-O-Matic® pinch valves can. Not ball valves, gate valves, butterfly valves, diaphragm valves, nor other valve types. The Lexair Tube-O-Matic® pinch valve suits a wide variety of applications calling for on/off control. Applications range from wet or dry, clean or sanitary, abrasive or non-abrasive, and viscous or sludgy media. Some applications include chemical, food, pharmaceutical, to more industrial related applications such as abrasive blasting, wastewater, the cement industry, anywhere there is a flow of bulk solids through a pipe, hose, or tube.
Having a simple design, pinch valves use an inner flexible elastomer tube or sleeve that when constricted obstructs the flow of media through the valve body by a pinching action. The tube is the only moving part and the main working element. The elastomer tube is pinched closed by applying fluid pressure (pilot) to the outside of the tube. It is squeezed at the valve's mid-section, pinching its walls together to tightly close the flow path around our unique center core which substantially reduces stress and wear on the tube.
Designed with unique features no other pinch valve has results in extended tube life. The Lexair Tube-O-Matic® pinch valve will operate with any media up to 150 PSI and seal bubble tight with a positive pilot differential of 15 PSI. Pinch valves are suitable for occasional or constant actuation. The many seal, end cap, and center core options make the Tube-O-Matic pinch valve compatible with almost any media.