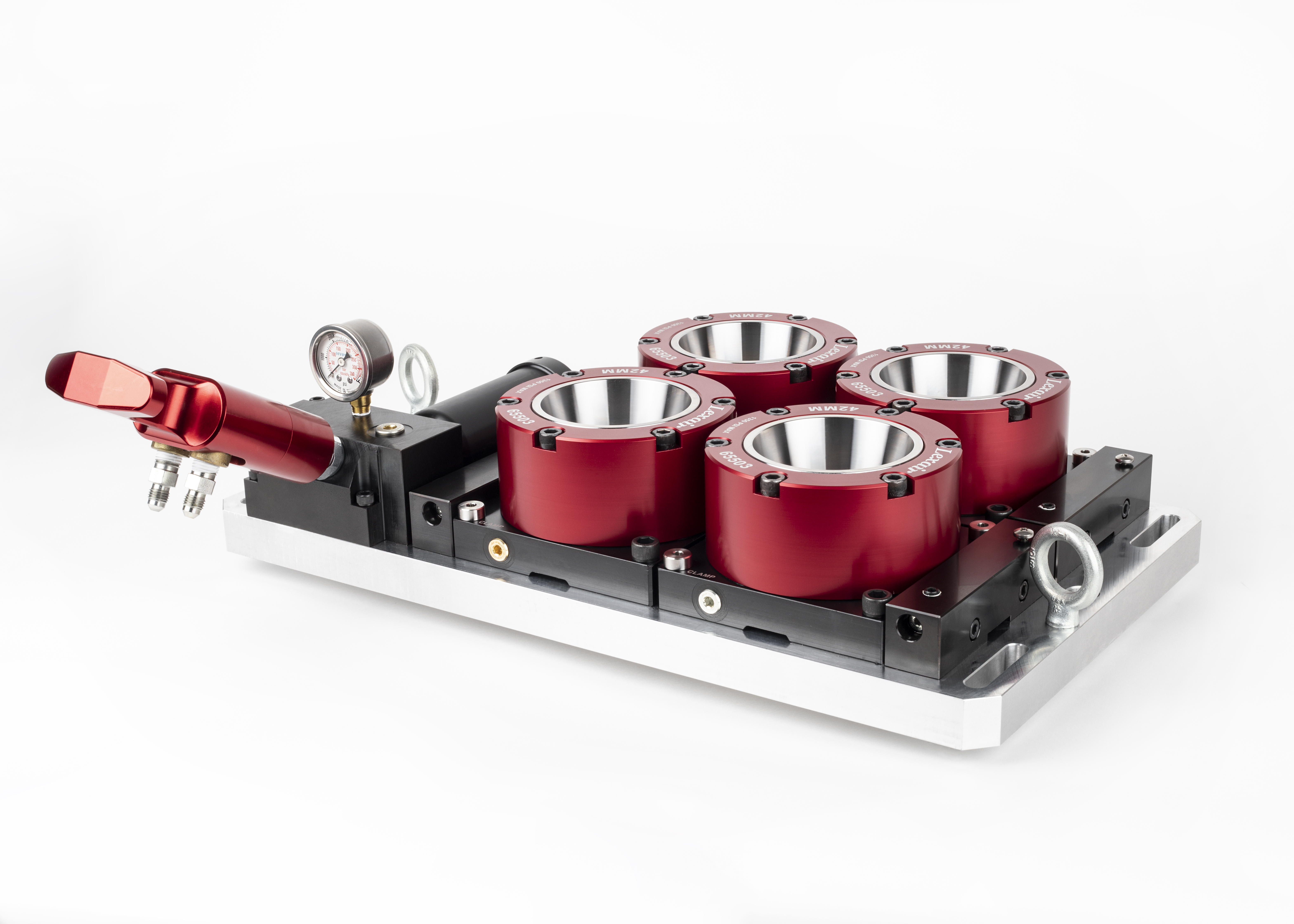 Hydraulic workholding involves the use of hydraulic systems to position, support and clamp parts for machining purposes. Consisting of cylinders, valves, pumps and other components to control and automate the process, Lexair, Inc. is your best source for hydraulic workholding. We have been in business since 1977 and our company has evolved to being a world class manufacturer with a reputation for excellence in "Made in the USA" products and second-to-none customer service. As an American, third-generation family-owned business, we take deep pride in serving our customers as we would want to be treated. Founded in Lexington, Kentucky, our work has passed the test-of-time as we have successfully expanded our product offerings. All facets of Lexair production are maintained under one roof in our modern state-of-the-art facility.
Lexair manufactures a number of hydraulic workholding options including:
Top Lock collet closers - Patented "accessible from the top" collet locking screw allowing quick and easy collet or part orientation in infinite positions.
High pressure hydraulic collet closers – all steel construction and operating pressures to 5000; able to be used in multiple configurations with connector bushings that eliminate external plumbing between units.
Pneumatic/hydraulic step chucks – all steel construction featuring double acting operation and pull-back design, supplied with a matching collet wrench.
High pressure hydraulic tri-grip collet closers - ideal for either horizontal or vertical machining center applications with ample grip for all your workholding needs.
Flex Grip™ - featuring both steel and aluminum construction; will accept other brands of vulcanized collet heads currently on the market.
Pumps and related accessories

Disconnect Handle – designed for use in double acting applications, automatically latching when pressure is present on either hose.
Hydraulic workholding provides a number of benefits:
A vast reduction in setup time
Reduced operator fatigue by automating the clamping process
Fewer scrapped parts
Consistent results
Increased safety
Turnkeyed fixture plates with the collet block mounted and ready to use are available.
Lexair has a long history of working with a variety of industries including electronics, dental, heavy equipment, automotive, aerospace, power and hand tools, medical, machine tool and general industrial. Hydraulic workholding isn't just a product for high-volume manufacturing. It is also appropriate for short and medium run production. The Lexair system can be set up quickly and inexpensively. Lexair is your one-stop shop for hydraulic workholding from the workholding to pumps.
Lexair can also design and manufacture custom turnkey solutions to meet the demands of all your workholding requirements. Lexair has innovative solutions to your workholding needs. Our customer service team has proven helpful at solving even the most complicated workholding scenarios. Thanks to our expert staff, we have helped many companies reduce downtime and increase productivity and we will be there for you for the life of your machine and beyond.