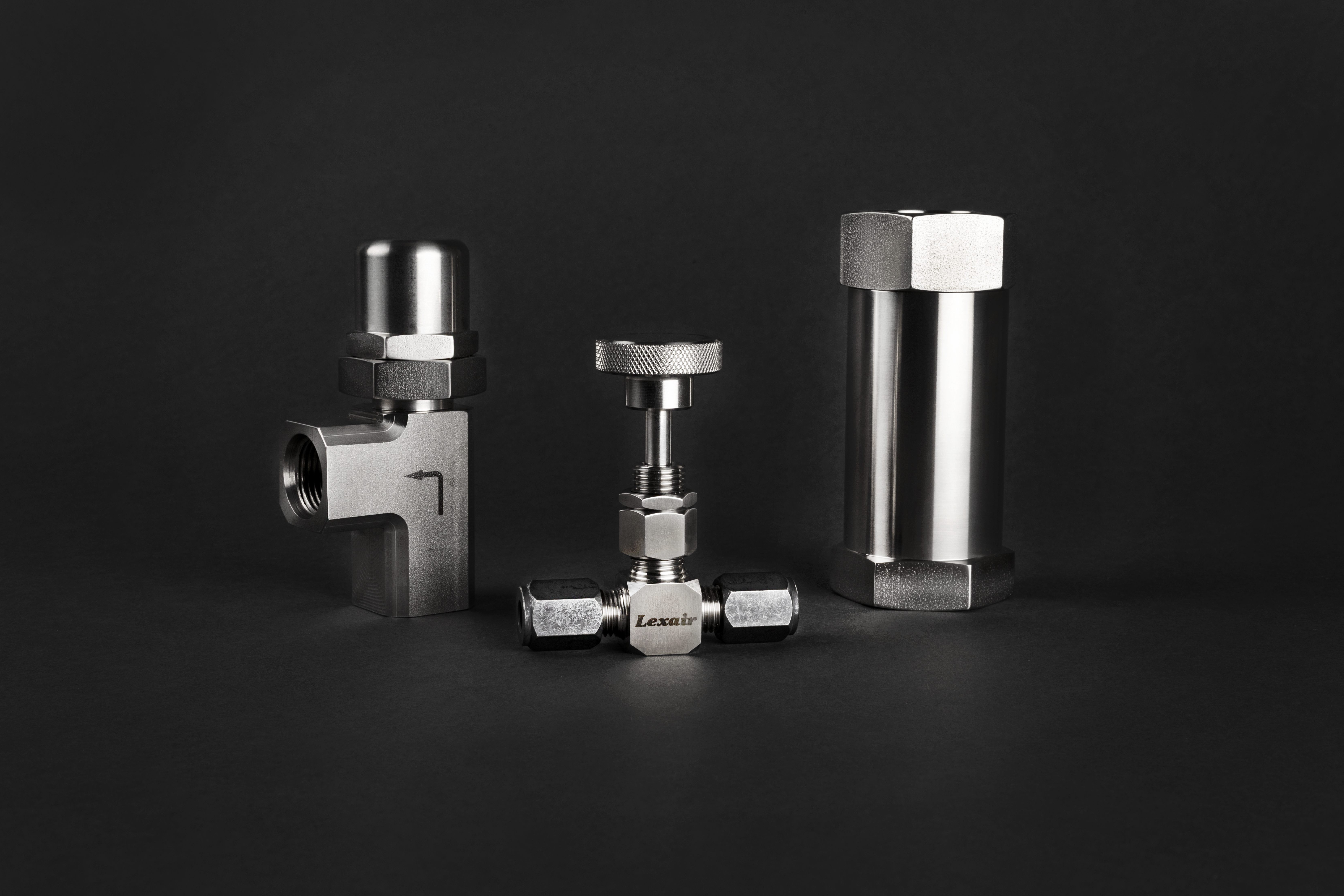 Your best source for defense valves is Lexair, Inc., a privately held, American owned corporation with all facets of our business contained under one roof on Mercer Road in Lexington, Kentucky. We offer excellent customer service, product engineering, component machining and manufacturing in our modern state-of-the-art facility.
From our humble beginnings in 1977 as a high technology supplier of high-pressure compressors for submarine life support systems and special pneumatic controls (for the U.S. and Canadian Navies) to our present status as a World Class Manufacturer of fluid power products, valves and machine tool accessories, Lexair, Inc. delivers the best products possible for today's global market needs. We continue to supply ultra-high-quality compressors for submarines today. Our current clients include the U.S., Australian, British, Spanish and Japanese Navies as well as several prime contractors. In addition to compressors, we also manufacture custom made relief valves, "Y" strainers and precision flow control valves for the Department of Defense per rigorous Military Specifications. Since 1977, we have continually expanded our product offerings including our selection of defense valves and we continue to design and manufacture new or modified items to meet the special requirements of our Department of Defense customers.
Lexair Defense Valves are "Made in the USA." All our castings are made to our specifications by USA foundries. All machining and assembly is done by Lexair employees at our Lexington, KY factory.
Our defense valves are manufactured for use by an industry that demands high quality and reliability from the products that we supply for their "mission critical" applications. All materials and manufacturing processes used in the production of Defense Valves must adhere to strict and highly specialized military and defense standards. Since they are mostly applied in harsh environments, stainless steel is widely used as are other exotic materials for various components required to make these types of devices.
Since most defense valves are custom made devices, Lexair can flex its muscle in the areas of rapid design, prototyping and manufacturing of custom or modified products. Because of our engineering design team, our decades of experience in the fluid power industry and our expert in-house machining capabilities, we are able to design, manufacture and deliver custom made products for this market segment quickly and efficiently.
For over 44 years, all of our products have been guaranteed and we are keeping it that way. Lexair devotes all of our attention directly to our customers. Our Defense Valves are all tested in-house following very strict quality guidelines. Since we began operation, we have been committed to bringing top of the line products and customer service that can't be beat.