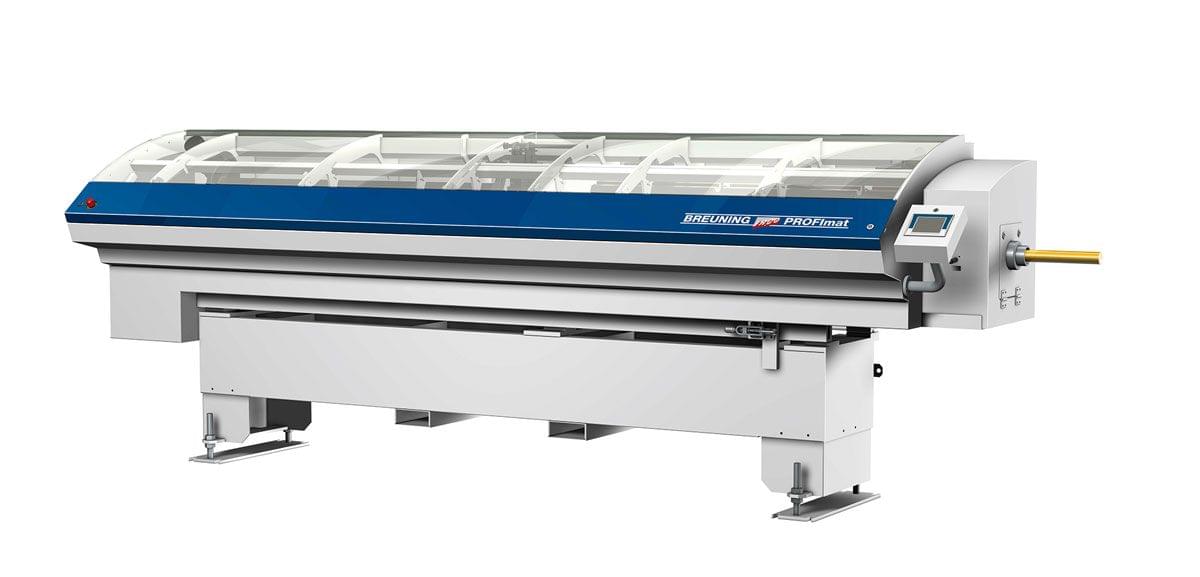 Lexair, Inc. is the ultimate source in automatic bar feeders. With a long history of providing industry-standard solutions to the machining industry, customers in the market for high performing automatic bar feeders for loading and unloading look to Lexair, Inc. As a leader in the industry, Lexair is the North American master distributor of Breuning IRCO bar feeders. Known for our strong reputation for quality and excellent customer service, customers are able to rely upon us for our follow-through on sales and service. As a third-generation family-owned company for over four decades, founded and located in Lexington, KY, we have earned the trust of our customers. This, coupled with our distributorship and service of the IRCO line of automatic bar feeders, builds confidence with our customers that they will get the right equipment for loading and unloading.
Automatic bar feeders are an integral element to secure and speed turning operations, a valuable investment in efficiency. An automatic bar feeder holds and feeds bar stock to the lathe, allowing the operator to seamlessly switch over to the next unit of work after finishing without needing to get fresh stock. Operators have a high degree of confidence with the graphic touch display. Automatic loading keeps the storage rack stocked with bars that get loaded into the guide channel automatically. When the upper guide channel segments get opened, the separator feeds the new bar into the guide channel, which is then closed. Large diameter and long length barfeeds are available as well as bundle loaders and part and long shaft unloaders.
The IRCO product line of automatic bar feeders, both loading and unloading, include:
PROFImat, Multi-channel quick change magazine barfeed, the ideal loading magazine for flexible, order-related turning operations, turning powerful lathes into highly efficient production centers with low personnel requirements – makes sense and is economical for even the smallest of production runs:

Optimum feeding of bars by 8 (6) integrated guide channels
Top speeds with optimum concentricity, reducing the load on the machine
Little downtime through super-fast channel switching to the next diameter to be run
Serves three-shift operation at maximum load

SiMag, a single channel loading and unloading magazine suitable for loading of all lathes with considerably reduced tooling time thanks to the clip technique used, allowing for quick and easy changes:

Top profitability for medium and especially for large production batches
Vibration-free processing using longer bars, reducing the amount of remnant
Loader is barely longer than bar length
Other guide channels can be ordered when needed.

ILS-RBL, the ultra-fast loading automatic part and shaft loader for highest productivity – The ILS servo drive technology makes it possible to guide and position workpieces or semi-finished parts into the machine spindle in a fully automatic, position-oriented and process-integrated way.

Efficiency drives profitability:

Works with a range of workpieces from short to long
Even long workpieces can be reloaded without opening the door
Designed for maximum utilization
Suitable for profiled workpieces, saw-cut or semi-finished parts
Profitable with even small lots

ILS-REX & ILS-TEX, Unload Pro and Simag ERV long length unloaders , unloading workpieces quickly in a fully automatic and gentle manner – This rapid unloading technology creates a continuous flow of material and enables the lathe to develop its full power. Extraction occurs without opening the machine door. With three different types of standard elements taking up the workpiece (unloading tube, clamping sleeve and internal clamping device), almost any workpiece can be unloaded gently, safely and quickly.

Efficiency drives profitability:

This automatic Unloader is an essential element for an optimized turning process.
The tried and tested unloading technology ensures gentle handling of the workpiece.