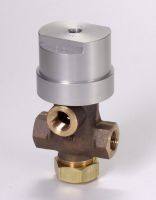 These direct pilot operated valves can be used with a variety of media where quick, positive control and long service life are required from an extremely low pilot signal. Featuring a standard operating pressure of 500 PSI, these durable, high flow units are perfect for any of your high pressure application requirements. With optional seals, they require no lubrication, making them ideal for non-lube air service.
Our valves feature large, resilient poppets that provide bubble-tight closure, even under low pressure conditions. Internal components made from bronze, brass and stainless steel plus a wide choice of seal materials assure excellent compatibility with a broad range of media. A PolyPak™ seal on the stem and a U-cup pilot piston seal prevent controlled and pilot media from mixing, permitting use of different media for pilot/control. Click here for an inside view with additional information/ features.
The bottom hex nut is easily removed for quick access to the valve's poppet assembly.
Applications Include:
Car wash equipment - low or high pressure water or chemical control
Laundry equipment
Air compressors and controls
Industrial liquid or air controls and sequencing
Water/waste water treatment - filtration flow, pollution control equipment, etc.
Utility facilities - for controlling the flow of liquids, gases, etc.
Processes that require "rinsing cycles" - fresh liquid pumped in then emptied and refilled with fresh liquid cycles
Pressurization/dumping applications
Test equipment for flow of media