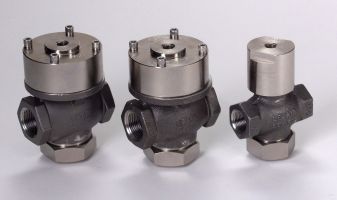 Designed for pressure applications with highly corrosive or ultra-pure liquid systems, these direct pilot operated valves can be used where long service life is required along with quick positive control from a low pilot signal. The valve is ideal for a broad range of industrial applications, from electronics to petro-chemical plants, commercial laundries, car wash operations, etc. Featuring a standard operating pressure of 500 PSI, these durable, high flow units are perfect for any of your high pressure application requirements. With optional seals, they require no lubrication, making them ideal for non-lube air service.
These valves feature a large, resilient poppet that provides bubble-tight closure, even under low pressure conditions. The bottom hex nut is easily removed for quick access to the valve's poppet assembly. A PolyPak™ seal on the operating stem and a U-Cup pilot piston seal prevent controlled and pilot media from mixing, permitting use of different media for pilot/control.
Applications include:
Dairy processing
Food and Beverage filling, packaging and dispensing
Chemical dispensing and processing
Car wash equipment
Laundry equipment
Industrial liquid or air controls
Breweries and distilleries - water, pasteurization, glycol solutions for cooling, deaeration processes, blending, carbonation, etc.
Water/waste water treatment - filtration flow, pollution controls, etc.
Utility facilities
Paper and pulp processing
Fertilizer production
Pharmaceutical and cosmetic mixing, blending, and dispensing
Injection molding machine cooling water controls
Foundry equipment for high flow air, water or other liquids for cooling and processing
Textile equipment - flow on bleaching, dyeing and drying equipment
Bottling and bottlewashing equipment
Any place a corrosion resistant valve is needed with easy to remove/clean internal parts - clean-in-place (CIP) applications