Phone: 1-859-255-5001 Fax: 1-859-255-6656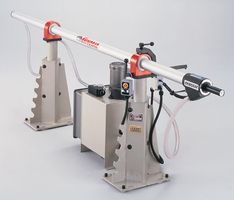 The Mini Rhinobar® is a precision engineered single tube hydrodynamic Barfeeder for high speed, small diameter applications. It is designed for use with Swiss-style CNC screw machines and small fixed head CNC lathes. It operates on the hydrodynamic principle of supporting the bar stock in an oil bath. Oil fills the gap between the bar stock and feed tube. As the bar begins to turn, hydrodynamic forces move it toward the center of the feed tube. Centering forces are amplified as bar speed increases. Feed tubes are available in graduated sizes to minimize the bar to feed tube clearance in order to achieve maximum operating speeds.
Both oil flow and pressure are controlled with a single Lexair valve which helps minimize setup time and give more accurate bar control for vibration free operation. The unique front swing out mechanism provides for ease of reloading bar stock and helps facilitate feed tube changeout in less than three minutes. Our units can be equipped with as many as 16 feed tubes in 1/8" increments to handle bars from 1/8" to 1-5/8" diameter and are available to accommodate 6 or 12 foot bar lengths. Features include Z axis capability, a positive pusher retention system, and a removable pendant for convenient operator control and ease of setup. The compact size of the Mini Rhinobar® makes it suitable for small or large shops. The 6 foot bar model has an overall length of only 11 feet while the 12 foot bar model spans only 17 feet. The system's fluid recuperator is totally enclosed, keeping oil off your shop floor and contaminants out of the hydraulic system. Mini Rhinobar® units are supplied with your choice of any three size feed tubes.
---